The beauty that surrounds Chaaya Lagoon Hakuraa Huraa is so moving, visitors will learn to be still. For an ultimate holiday experience, the Chaaya Lagoon Hakuraa Huraa is your perfect destination. With a new look and better facilities, we are ready to offer you the wonders of sun, sand and sea in a backdrop of ultimate comfort.
Features
fresh water swimming pool
Rooms
Description
Guests often lie nestled in a swaying hammock in the backyard of a Beach Bungalow secluded from the world. With cerulean waters, unspoiled beaches and emerald palms to gaze at, beauty surrounds guests day in and day out. The Beach Bungalows with their spacious rooms, polished wooden floors and modern furnishings, are set in the shade of palm trees. Guests have the advantage of both a beach and a lagoon frontage.
Room Features
Tea/Coffee making facilities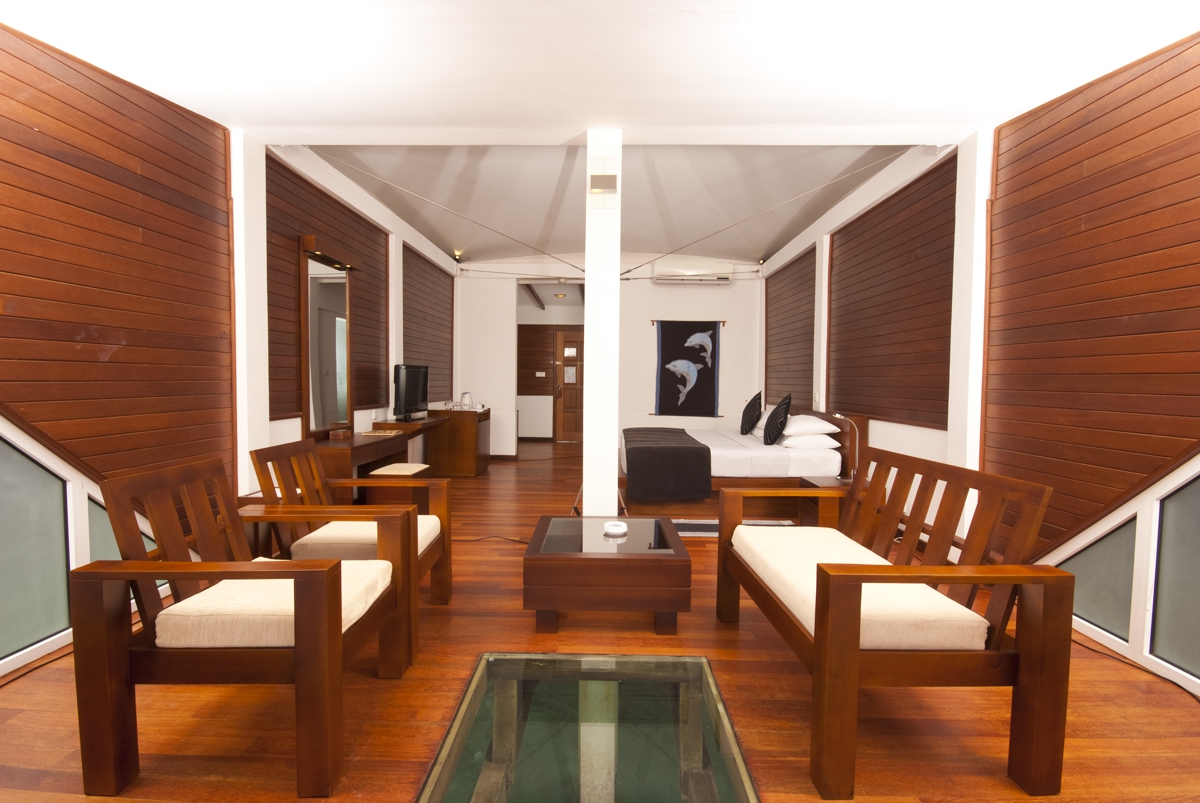 Description
The feeling of being intimate with the ocean is further enhanced with the glass bottoms in the Water Bungalows. Visitors claim that each time they look down there's a different thing to look at. A lost lion fish, a wondering parrot fish and even a bored octopus. The Water Bungalows sit on stilts and are complete with four-star amenities. The architecture is in harmony with its surroundings while the interiors are tastefully designed to complement the tropical backdrop. Each of these bungalows has its own private open-air decks with a staircase leading down to the lagoon offering unobstructed views of the Indian Ocean.
Room Features
Tea/Coffee making facilities
​Seaplane Transfer to the Hotel
Cancellation Policy
Within 7 days of the arrival will be liable to pay 50% of the full accomodation cost, EXCLUDING Transfers.
Early departures - : no refunds
No - Shows -: 100% of accommodation cost + one way transfer
Payment Policy
Failing to do so in complying with the below terms,
will result in booking being CANCELLED automatically by the reservation system.
Full Payment to be made within 7 WORKING DAYS prior to arrival of the guest.
For Short Notice / Last Minute bookings - 100% of payment to be made on confirmation or payment conditions to be negotiated.
Child Policy : Children 0 - 01.99 Years - Accommodation and transfers, Free of charge. Government Bed At US $ 8 per night,
to be paid direct to the resort.
Children 2 to 11.99 years - refer the rates specified Page